How to find a good entry level bike
Where to Buy
You're usually looking at $200-$600 for a decent entry level hardtail but I have bought good bikes for as low as $50 off Facebook. They will usually need a little work but that's really how you'll find the best deals. If you don't want to do the work, bike shops will often do the basics for pretty cheap ($20-$50). Your local bike shop will also usually have quality used bikes that are in good shape. They won't be as much of a bargain as the Trek on Facebook that was only ever used as a commuter bike but they'll usually have it fairly restored before they ever try to sell it and you'll know you're in good hands. If you are buying new, only buy from a shop that services their bikes (NOT BIG BOX STORES LIKE WALMART).
There are some great online places to buy and sell used mountain bikes such as Pinkbike and Bicycle Blue Book, MTBR, or Bike Exchange. I can't speak to those much as all of my used bike purchases have come from Facebook, Craigslist, or other classifieds sites like KSL.com. Thrift stores and garage sales can be good if you really know what you're looking for. One of the best ways to find good deals is by asking around in local Facebook groups dedicated to mountain biking. There are a lot of riders out there who buy a new bike and let their old bike sit in the garage without ever listing it for sale anywhere. However, those same people are often the same ones that will make you a fantastic deal if they know you're looking for something.
Find a Good Deal

Bike value isn't quite as simple as car values but there is a Bicycle Blue Book for the more established brands of bikes. Most sellers on facebook and craigslist aren't going to check the blue book value and things still come down to perceived value, or what people will actually pay for the bike. Checking the Blue Book value can help you get a ballpark so you're not taken advantage of. I like to use my own special Google Image search to identify a bike to get a good feel on the right price. While far from foolproof, it helps me a lot. I go to that link and then add as many details about the bike as I know whether it's model name or color. Color isn't always helpful but often narrows things down quick. Whether or not this helps with price, it's also a good way just to know the year, make, and model of what you're getting.
Brands to Buy and Brands to Avoid
Some trusted brands include Specialized, Trek, Giant, Jamis, Scott, and Cannondale. Raleigh can also be good but on the lower end of those. Some brands to avoid are Roadmaster, Next, Mongoose, Huffy, Pacific, Schwinn, or Vilano (there are plenty more). For the most part, if it's a brand that's sold at a big box store, it's a brand to avoid. Diamondback makes great bikes now but they've also made some very cheap bikes so brand alone isn't a great indicator for them. There are a lot of bike manufacturers with varying degrees of trustworthiness so looking at the components and features will often be a better indicator than brand alone.
Components/Features to Look For
If you've got a solid bike, you can replace and repair individual components, and they're usually fairly cheap. Finding a bike that has the right kind of components will get you to a good starting point. You can upgrade or repair some things on a Walmart bike but a lot of the parts won't be standard so fitment becomes a big issue.
Headset
This may seem like a small thing but it's the first thing I look for in determining the quality of the bike. Threaded headsets tell me very quickly that I'm looking at a much older or substandard bike. Threaded headsets are the reason we used to have to squeeze the tire between our legs and straighten the handlebars so often. They're hard to get sufficiently tight. By contrast, it's easy to get a threaded headset to stay on solid with just a couple of allen wrenches. Threadless headsets have become the standard and standard is good. That means that it's easy to replace the headset, handlebars, or the fork. You can also adjust the height of your handlebars using spacers. If you want to change any of that with a threaded headset, you'll need a similar bike to pull parts from and you'll need a lot of patience. Mostly, if a bike has a threaded headset, it's a good indicator that the bike is unlikely to have very many other standard modern components.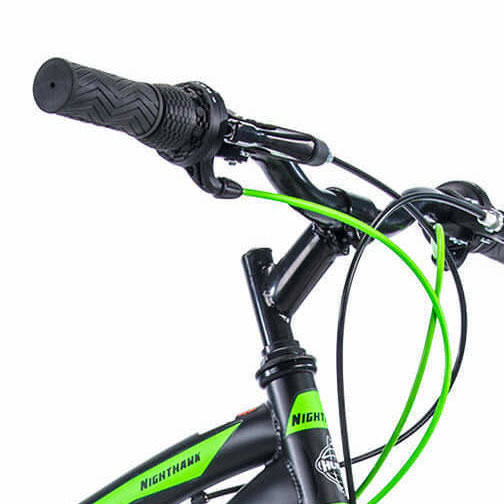 Brakes
There are 2 basic types of brakes: Rim brakes and disc brakes. Rim brakes work by squeezing the rim of the wheel to stop. They are susceptible to issues if the wheel gets even a little out of true (wobbly) or if the wheel gets wet, muddy, or especially if the wheel gets oily for some reason. Disc brakes work by squeezing a metal disc mounted to the wheel much like the brakes of a car. They are much more responsive and reliable. They also work well even if the wheel gets really out of true. Don't condemn an entry level bike just because it's got rim brakes but if you can find a bike with disc brakes you'll be a much happier rider and spend much less time adjusting your brakes.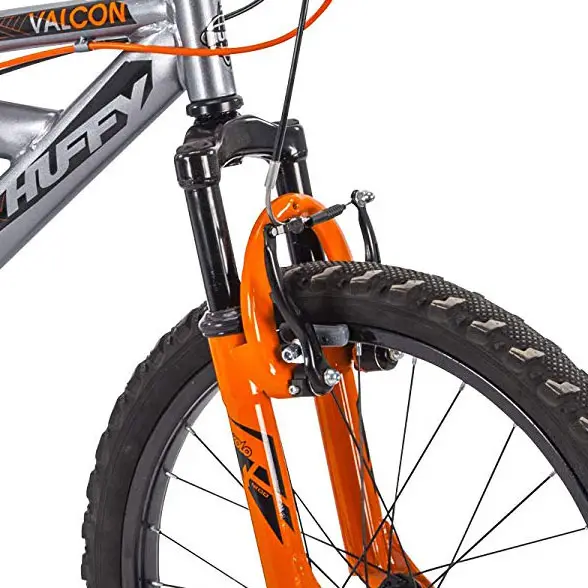 Suspension
For it to be a mountain bike, it needs to have working front suspension. Front suspension only is referred to as a "hardtail". Many bikes also have rear suspension and are referred to are full suspension or "full squish". 'Real' rear suspension usually looks like a hydraulic piston. It's only found on higher end bikes, usually over the $1000 price point. Cheaper 'fake' suspension looks like a spring and is often sold as 'Dual Suspension'. Generally, if your budget is less than $1000, just stay away from everything boasting full suspension.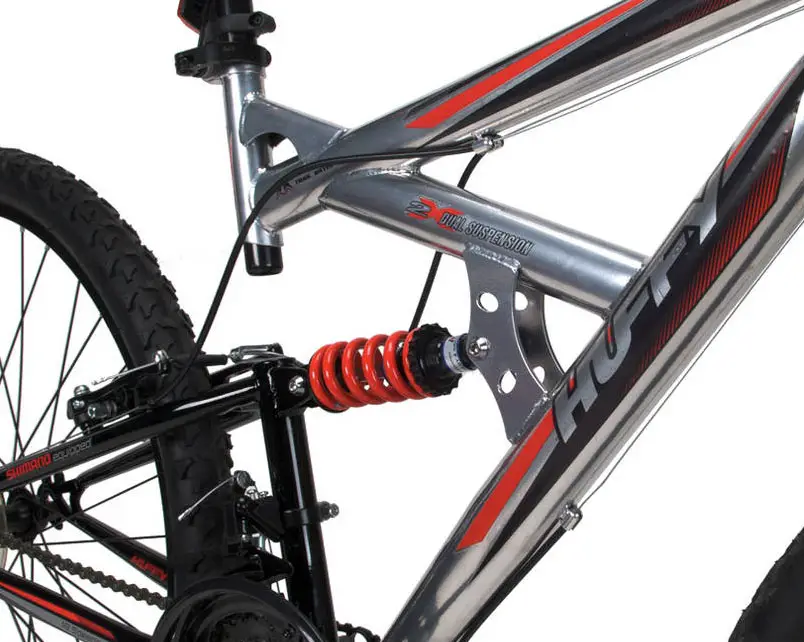 Finding the Right Fit
I'd say that most people that aren't cyclists or mountain bikers are riding a bike that is too small for them. For many, the measuring point is the seat height. In other words the prevailing thought is, "if I can touch the ground from the seat, it's the right size". You should be able to touch the ground standing over the top tube in front of the seat, which is where you should go when you stop your bike. When climbing a hill on a bike, you should actually be able to almost fully extend your leg as you pedal. You can also multiply your inseam (in inches) by 0.66 to determine the frame size you should be looking for. Either of these methods should be sufficient for an entry level bike. When you're looking for a higher end bike, there are other measurements you'll want to take into account as well.

Another common misnomer is that wheel height is a solid reflection of the right size. It's handy to know that a full size bike is typically 27.5″ but as an adult male, you can easily find a 27.5″ inch wheel with a Small (16″) frame and it will be way too small for you but would fit your 12 year old daughter just great while a Large Frame with 26″ wheels would fit you just fine.
Common Repairs
Every bike you find will have different needs. Here's things I'm having to fix on most bikes. If you know how to handle these, you'll have many more options for the good deals you might find.
Brakes
Rim brakes almost always need adjustment. Sometimes they'll need new pads which are pretty intuitive to install if needed.
Shifters/Derailleurs
It's almost certain that the used bike you've bought off of facebook does not shift well. Usually, it just needs the derailleurs adjusted. This is one of the trickiest things to do on an entry level bike but if you follow these tutorials from Park Tools, it's actually not too bad at all.
Cables
Cables are cheap! Like $2 per cable. If you see fraying or the cables are sticky, just drop in to your local bike shop and buy some cables. Cables are universal too so you don't have to worry about getting the right kind. They're either brake cables or shift cables. You just put them on and cut off the excess. Odds are you need some new cable ends whether you're replacing cables or not. They're pretty cheap and easy to match to the color of your bike.
Rust Removal and Protection
You can get your hands on rust remover pretty cheap these days. If you just want to use what's around the house, Coca Cola and WD40 can be great for rust removal. If it's something I can soak like a chain, I'll soak for a day in Cola otherwise I'll spray it with WD40 and let it sit, then scrub it with something real abrasive. Sometimes that takes a few passes. Then if it's something I can paint (like handlebars), I'll just give it a fresh coat of spray paint. If it's spots on the frame that I just work hard to de-rust, I'll spray it with a clear coat of paint for extra protection. Chains are cheap (as low as $10) though so de-rusting them may not make sense if it's just one.
Ride What You Have
Regardless of what it is, if you've got a bike that works, ride it until you find something better. You aren't going to want to take your Walmart bike to a lift serve downhill park but you may be able to find some good smaller trails that are closer to home where if something does go wrong, you're not stranded or in danger. If your bike needs fixed, fix it. Improve your bike as you go but always, just ride.