266

Places I've Updated

by katiemia
first
prev
1
next
last
Add Location
4.7 mi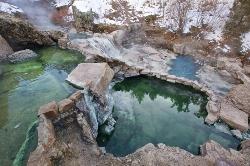 Provo, Utah
19.0 miles SE of Provo, Utah
AKA Diamond Fork Hot Springs
A beautiful drive and a 2.5 mile hike along the river will end you at an amazing set of hot springs that's well worth the trip. There's a variety of man-modified rock pools of varying temperatures up to 108°. Watch out for snakes. Depending on when you go, there can be a lot.
There are multiple sets of pools. As soon as you come into view of the falls, you'll see a couple of pools that seem to be a little raised above the creek. There are several pools close to the waterfall, including some very shallow pools and some where it's easy to move the rocks around to form your own. If you continue beyond the waterfall, you'll find a couple of more secluded pools. Make sure to go behind the waterfall but be careful of some of the more slippery rocks.
There's no good place to change once you get to the springs so you may want to plan to hike in your swimwear. If you come on a sunny day, it's easy to dry off before walking back. If you're a tenderfoot, be sure to bring some sort of footwear for the water so you can go wherever you like.
Like most locations, the hot springs more popular on the weekends so plan accordingly.
Roundtrip: 5 miles
Full Listing
Backpack, Camp, Hike, Hot Springs, Mountain Bike, Swim
0.6-4.7 mi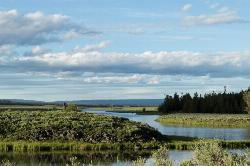 Island Park, Idaho
8.3 miles SW of Island Park, Idaho
Harriman State Park is found 38 miles from Yellowstone along Henry's Fork. This 11,000-acre wildlife refuge is open year round for most activities. In addition to having beautiful scenery and wildlife, the area also has several houses that were built when the park was a privately owned ranch. The area is home to one of the best fly-fishing streams in the country, an eight mile portion of Henry's Fork river. There are many activities here including horseback riding, hiking, tours of the ranch, and fly-fishing.
During the summer, the trails through Harriman are a great place to hike and explore. There are plenty of wildflowers growing and the lakes and rivers flow nicely. Visitors will be able to see plenty of small wildlife, including swans on Silver lake, and there might even be a chance to see a moose or a bear. Part of the park crosses into the Caribou-Targhee National Forest. Along the river, there are beautiful views of the Tetons and the Yellowstone Plateau. 
In the winter, the park is home to more than 24 miles of Nordic ski trails. The trails all vary in level of difficulty and distance. Most of the trails will go around Silver Lake and loop back towards the ranch houses. Other winter activites include fat biking and snowshoeing. The ranch houses are great in the winter because several have large fireplaces to warm up by. 
The ranch houses can be rented out by visitors and have different accommodations for each house. Some of the houses include large gathering areas great for large groups of people. During different seasonns of the year the park offers events for the general public including star gazing and music camps. 
This is an Idaho State Park and there are day use fees. Passes have reciprocity with Mesa Falls State Park which is only about 20 minutes away.
Full Listing
Cross-country Ski, Hike, Horseback, Mountain Bike, Snowshoe