1.8K

The Don't Miss Hikes for a Day In Bryce Canyon

by tasiawhicker
first
prev
1
next
last
Planning a trip to a National Park can be overwhelming. Bryce Canyon National Park is no exception. There are so many trails to explore that it can be difficult to decide which ones to explore and which ones to miss. Is it better to explore the most popular places? Or are there some spots off the beaten path that would be cooler?
If you are planning a trip to Bryce, these are some hikes you won't want to miss. This unique mixture of hikes allows you to explore the variety of the many sights available in Bryce Canyon. From the popular Navajo Loop Trail, that gives you up-close interaction with the most famous rock formations in the park, to Mossy Cave Trail, that gives you a unique view of the canyon's only waterfall. The trails on this list combined help you make sure you don't miss any of the most amazing spots Bryce has to offer.
The colorful, unique experience of hiking down a red rock staircase, in a bubbling spring, or through a green forest with pink cliffs will be one you never forget. Bryce Canyon is a rainbow of experiences under a vast blue sky. This list is my recommendation for making sure you don't miss a single color.
Add Location
1.0 mi
Kanab, Utah
33.5 miles NE of Kanab, Utah
Bristlecone Loop is a one-mile trail from Rainbow Point. Rainbow Point is located at the southern end of Bryce Canyon National Park and is the highest point in the park. The spectacular views overlooking the park can be enjoyed as hikers meander this easy trail.
Bristlecone Loop is named for the Bristlecone Trees that can be found along the pathway. These trees are unique in their age and beauty. The oldest Bristlecone Trees on this path are estimated to be 1,800 years old. Be sure to take in the view of their uniquely spiky pinecones.
The beginning portion of this trail is forested with Blue Spruce, Douglas Fir and White Fir Trees. These trees provide a great habitat for many forms of wildlife. Hikers commonly see woodpeckers, blue jays, chipmunks, owls and squirrels on Bristlecone Loop.
The middle of the loop provides a wonderful view off the top of the highest cliff in Bryce Canyon. This unique perspective of the park is definitely worth the hike.
Hikers wanting to explore Bristlecone Loop can park at Rainbow Point and easily find the well-marked trailhead on the east side of the parking lot.
Bristlecone Trail is a wonderful way for hikers of all skill levels to experience the views and wildlife available in Bryce Canyon National Park.
Full Listing
Hike
Added on 18 Mar 2019
7.6 mi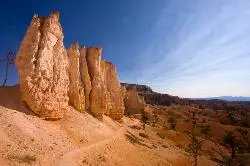 Bryce, Utah
1.8 miles S of Bryce, Utah
Fairyland Loop Trail is one of the most scenic hikes available in Bryce Canyon. Hiking this loop allows you to see many of Bryce Canyon's well-known sights from several perspectives.
Fairyland Loop Trail begins at Fairyland Point where hikers descend about 900 feet into the canyon. For five miles hikers follow Fairyland Loop Trail through the red and white hoodoos and pink cliffs. The trail then ascends to Sunrise Point. At Sunrise Point hikers get an aerial view of the canyon as they walk along Rim Trail to connect back to Fairyland Point.
Because of its length and steep stretches, Fairyland Loop Trail is considered one of the more difficult trails in Bryce Canyon. The loop is 8 miles in its entirety, with short stretches where the trail is very steep.
A worthwhile detour to take while hiking Fairyland Loop Trail is the short stint to Tower Bridge. Tower Bridge looks like a naturally made, red rock version of London Bridge and is only 200 yards away from Fairyland Loop Trail. The trailhead to Tower Bridge can be found just before Fairyland Loop Trail ascends to Sunrise Point.
Fairyland Loop Trail is a wonderful trail for hikers looking to explore Bryce Canyon and experience the variety of sights that can be seen there.
Full Listing
Hike
Added on 7 Mar 2019
1.8 mi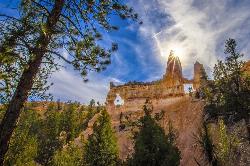 Bryce, Utah
3.3 miles S of Bryce, Utah
Tower Bridge is a unique and uncrowded trail in Bryce Canyon. Tower Bridge gets its name from the prominent rock formation the trail leads to. The rock formation resembles London Bridge and is a sight worth visiting.
Along the trail to Tower Bridge hikers can get close views of the rock formations that make Bryce Canyon famous. The trail becomes progressively less crowded the further you hike from Sunrise Point.
The trail to Tower Bridge begins at Sunrise Point and goes North East along Fairyland Loop. On Fairyland Loop a detour trail is marked off to Tower Bridge.
The trail from Sunrise Point to Tower Bridge is 3 miles out and back and is considered moderately difficult. The beginning of the trail from Sunrise Point descends rapidly and is the most difficult part of the trail.
Hikers wishing to see Tower Bridge can also hike the entirety of Fairyland Loop. This method of access is longer. The loop is 8 miles long and more difficult than the out and back trail.
The hike to Tower Bridge is perfect for hikers wanting to experience the beautiful red rocks Bryce Canyon is famous for as well as some less explored sights. The impressive natural bridge that is Tower Bridge is a unique sight in Bryce Canyon and adds variety to any trip to the park.
Full Listing
Hike
Added on 7 Mar 2019