Add Location
1.0-1.3 mi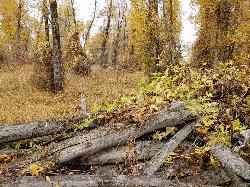 Rexburg, Idaho
7.2 miles SW of Rexburg, Idaho
This is the old site of the Lorenzo Boat Launch, which has moved to the other side of the river a little further downstream. This spot sees very little traffic. There are beautiful, yet primitive trails along the river and a well hidden lake. There is a lot of marsh ground and the falls colors are amazing. The trails drawn on the map here are partial. They can be followed further and likely connect to form a loop. If you know the rest of the trail, please let us know.
Paintball Field
Great natural boundaries; There's a river on one side and a dry bed on the other. On one end, it drops down and then becomes sparse. On the other end, there's a fence with nice walk-in gates. There's a dry creek bed that runs through it to one side that gives it a good amount of variety. There's quite a bit of undergrowth and even a couple of nice big man-made stick barriers toward the middle of the field. 
When the construction started on the Thornton exit, they blocked off the parking lot on the West side. They built a new parking lot on the East side across the tracks and a trail underneath the bridge and road. You have to haul your stuff now but there is still access to an awesome field.
Full Listing
Airsoft, Hike, Paintball
Added on 12 Oct 2018
1.1 mi
Ririe, Idaho
9.0 miles E of Ririe, Idaho
You'll find the Hidden Vista trailhead on the South End of the Buckskin Morgan parking lot about a mile past Y Junction. This is a short trail with a little up and a little down for just under a 1/2 mile to the Hidden Vista where the trail opens up to the canyon and all the way out to the Snake River. The view isn't what you'd have at the top of a peak but is nonetheless and beautiful view. From there, you can go back the way you came or take a detour off to the right (East) on your way back and get a little downhill action. There's pretty good little climbs, turns, rocks, and even some fun jumps at the bottom. When you're done playing on the jumps, it's just a short climb back up to the parking lot or to the trailhead so you can do it again. The trail is primary singletrack, is fairly well maintained, and is shared by hikers and mountain bikers. 
Full Listing
Hike, Mountain Bike
Added on 28 Sep 2018
0.1-0.5 mi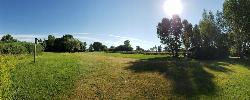 Rexburg, Idaho
0.9 miles N of Rexburg, Idaho
Eagle Park is a little urban oasis. Once you drive in to this cottonwood forest along the river, you may forget that you're still inside Rexburg city limits. You can camp, picnic, throw rocks in the river, fish, mountain bike, or just go for a walk along the trail or road. All sites have picnic tables, fire rings, and tent pads. Just off the main parking lot is a nicely mowed grassy area that is a popular dog park. On the West end of the parking lot, you'll find a multi-use trail that will take you almost the entire length of the park.
Mountain Biking/Hiking/Walking
The trail system at Eagle Park is maintained in part by Free Arenas. If you have any would like to get involved or just want to share your thoughts on how to improve it, email [email protected].
Tenderfoot is primarily a mountain bike trail. The trail runs back behind most of the campsites. While it's built for mountain bikes, it's usually great for a nice quiet walk as well, and arguably the best way to see the park. This 0.5 mile trail is rated Easy but is about as tough as an easy trail can get. It's pretty mellow but does have a couple of quick punchy climbs and a non-optional berm climb over a large tree branch.
Taut-line is cut into the slope along the fence line. It begins on the embankment at the West end of the campground and goes for 0.4 miles. The Northwest section is the longest section of trail in Eagle Park and is cut into a steep slope above marsh and ponds. It is generally downhill from the West end but has plenty of up and down. Towards the middle of the trail, there is a berm and table top. The section South of the Tenderfoot junction was an Eagle Project completed by Ian Hoffman and his volunteer crew. The trail continues to cut up and down the side hill with a fun rock berm and a rock garden. The end drops in to connect back to Tenderfoot right near the junction with Bugler. The trail has short climbs and fun drops going southward so going the other way, you get punchy climbs and longer descents. Because it's much higher than the Tenderfoot Trail it parallels, Taut-line does not flood and actually bypasses the worst flood area of Tenderfoot. The bench cuts are on the narrower side. Because the trail does go along a steep slope, remember to fall uphill. This trail is rated Intermediate. 
Bugler drops off the Tenderfoot Trail and runs down and around a pond just off the lawn. There's a few drops, climbs, and berms adding a little bit of speed and a little more difficulty.
Jamboree drops off the Eagle Park Road near campsite 19 and continues down along the river to the old campsite 14 that's now a disc golf basket. This trail rolls back and forth through a trough of sorts with some jumps along the edges and potential for many more. It seeps ground water when the water is higher and is completely flooded in May/June when the river is really high. When it's dry though, it rides decently fast and is a lot of fun!
Skills Park Along the Tenderfoot Trail and just off the lawn is a skills park built as an Eagle Scout project by Erik Hurst and other volunteers. It features a large wrap-around berm on the north end, raised skinnies made of 2x8 2x6 and 2x4 treated lumber, a ladder a-frame, a rock garden, and a see-saw.
While not all trails are intended to bi-directional and multi-use, they are all used as such so please be aware of others on the trail.
Looking for a little longer hike or ride? Go to the Northwest end of the park and you'll find an old raised road that follows the airport fence line to the Nature Park. It's pretty popular to loop both parks together.
Sledding
New in 2018, there's a sledding hill area just off the main grassy area. It's a terraced hill with a couple set runs and then quite a bit of open hill as well. Elevation is only about 20 feet from top to bottom but there's plenty to keep kids busy for awhile. There's even a more difficult run that includes jumps and drops for snowboards. The terrace trails are better when the snow's a little bit icier but the small hills are great for little kids that wnat to avoid the more popular hill at Smith Park
Camping
Picnicking is free but there is a fee for camping. Overnight camping fee is $10.00 per space paid via rexburg.org. All fees are used for future picnic tables, restrooms and other park improvements. The camp fee for boy scout troops may be waived as long as they perform an approved 1 hour service project to the park while camped here. Picking up garbage and pulling weeds are always approved. Weeds that need pulled include hounds tongue, cocklebur, bull thistle, and the occasional stinging nettle.
Posted Eagle Park Rules
No RVs in park
No motorcycles, scooters, or ATVs on park roads
7 day camping limit
Tents only on designated tenting pads
Fires in designated fire pits only. No non-burnable items in firepits.
No smoking, tobacco, or alcoholic beverages
Pets on leashes only. (All pet droppings to be put in bags for droppings)
All garbage to be put in garbage cans. Pack it in - Pack it out.
No firearms, firecrackers, or explosives
Avoid loud music and noises — Be respectful of other campers
To reserve an entire shelter, call City Hall at 359-3020. Reservation fee is $25 per half day.
This is a community service project of Free Arenas, the Madison Lions Club, Trails of Madison County, the City of Rexburg, and numerous Eagle Scouts in the Yellowstone District of the Grand Teton Council, BSA. Constructed 2001-2005.
Please respect the flora and fauna and practice the Outdoor Code. This park only exists because of volunteer service from many in the community. Please, don't be afraid to help out by collecting some hounds tongue, cocklebur, and bull thistle. If you're looking for ideas for a bigger service project, contact [email protected]
Full Listing
Camp, Hike, Mountain Bike, Sled