Add Location
Ririe, Idaho
3.9 miles SE of Ririe, Idaho
On the North end of Ririe Reservoir there is a great little park with cliff jumping and even rock climbing. There is a trail from the south end of the parking lot down along the cliffs. There are great spots to jump into the lake ranging from almost nothing all the way up to 80 feet high. As always, be safe.
Daily fees: $3 weekday $5 weekend/holidayCourtesy of co.bonneville.id.us
Full Listing
Dive, Rock Climb, Swim
Added on 18 Jul 2018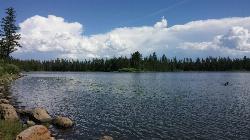 Ashton, Idaho
18.3 miles E of Ashton, Idaho
Horseshoe Lake is hidden back in the Targhee National Forest. It's a beautiful lake with plenty of lily pads. The road to get there is well maintained and there are many options for pull-outs and parking once you get there. The lake has a gradual decline great for wading but has plenty deep enough for swimming and canoeing. A youth camp has a floating dock out towards the middle that is often free to use for jumping in. The lake is also a great place to go fishing. No motorized boats are allowed.
Full Listing
Camp, Canoe, Dive, Swim
Added on 2 Nov 2017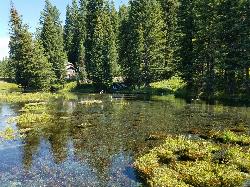 Island Park, Idaho
7.6 miles NE of Island Park, Idaho
There's also a great little walking trail along the river with placards that tell about the ecosystem and history of the area. There's about a 1/2 mile that's paved and then a 1/2 mile of dirt trail. The trail is NOT a loop. The trailhead is on the South West side of the bridge. There's a great spot to feed the fish under the West side of the bridge so bring some quarters to buy fish food. The trail to Johnny Sack's Cabin is on the North Side of the Cabin.
Campground (Fee Required)
This campground Is located on the Ashton·lsland Park Ranger District, comprising nearly 650,000 acres of National Forest System lands. Numerous amenities are offered such as single and double sites which Includes fire rings. utlllty tables. picnic tables, and reslrooms. This campground is situated nen to the beautiful Henry's Fork shaded by Lodgepole Pines. Come In and relax with friends and family. Head on out and explore the Big Springs Interpretative Trail which starts at the bridge Just Outside the campground. Be sure to visit the historical Johnny Sack Cabin, offering a unique Insight Into the history of the Big Springs Area. Just follow the asphalt walkway which will take you to the cabin Just north of the campground. Explore the historical, cultural, geological, and recreational resources this area has to offer.
Take a scenic drive south along the Mesa Falls Scenic By·Way. Stop by the Mesa Falls Visitor Center for an interpretative tour and captivating view of Upper Falls. A two mile Interpretative hiking uall will offer you a view of Canyon Rim.
Length of Stay: Forest Order
Camping or occupying a Single site for a period longer than 16 consecutive days Is prohibited. After leaving a site, a minimum of 7 days Is required before any group or person(s) from that group may reoccupy their original location.
This limit of stay restriction Is necessary to reduce displacment of other Forest desiring to occupy a particular campsite, and reducing the opportunity for visitor or group of visitors from monopolizing a campsite for long periods time (in excess of 16 days).
Fire Safety: Only You Can Prevent Forest Fires
Make sure your fire is DEAD OUT
NEVER leave a fire unattended.
Keep your fires small. Firewood Is available for sale. See campground host.
Check with campground host for current fire restrictions.
Use existing fire rings. Scrape away litter end any other burnable material within a l0 foot-diameter circle surrounding the fire ring.
Make sure all wood fits inside the fire ring.
To put out a campfire, slowly pour water onto the fire and stir with a shovel until all material is cool to the touch.
Do not bury your fire. The coals can smolder and re-ignite.
Make sure the fire is dead out. Many wildfires have been caused by abandoned campfires.
Bear Country: Required Food Storage Order
Your Safety Is Important to Us
All food and other items that might attract bears must be stored where bears cannot access them at night and during the daytime when unattended. Attended means that a person is physically present within 100 feet and in direct sight of the food.
What are bear attractants?
All food and anything that contacted food. This includes full or empty coolers, packaging, boxes, cans, bottles, dirty dishes and silverware, etc.
All beverages and beverage containers, full or empty (including water)
All garbage, food scraps, and cooking grease. Never dump grease, beverages, or scraps on the ground.
Never leave garbage in your fire pit or outside.
Pet food and pet food bowls.
Gas cans.
Grills. Burn grill for at least 5 minutes after use to get rid of any residues. Clorox the grease trap.
Anything with a strong odor is an attractant for bears. Attractants must be stored in a bear-resistant manner. If you are away from your campsite or asleep at night in your test/trailer/RV, these attractants MUST BE STORED. You may be fined if you do not properly store your attractants. If you cannot properly store your attractants, inform the campground host and a bear resistant container may be provided for you.
What is bear resistant storage?
Acceptable places to store and dispose of your attractants are inside a hard-sided trailer, an enclosed vehicle, inside a bear dumpster or trash can (this campground has bear-resistant dumpster). Coolers, tents, underneath your RV/trailer the back of pick-up trucks, boxes, beverage bottles, canned goods, soft-sided trailers, and other containers are not bear resistant. All garbage must go to bear-resistant dumpsters. Garbage must never be left outside unattended. If the dumpster is full, you must take your trash back with you and inform the campground host of the situation.
NOTICE: ATV and Motorcycle use is prohibited
ATVs and motorcycles are prohibited from use in this campground. The following are exempt:
Licensed street legal motorcycles.
Vehicles used by handicapped individuals.
Vehicles used by campground hosts for their official duties.
ATVs and motorcycles may be trailered into the campground, kept in the campsite on a trailer, or parked at a location designated by the campground host.
Educate Yourself
Contact the Island Park or Ashton Ranger Station for information on which areas are open to ATVs.
If you have a Dog: Keep your pet secure at all times
In the national forest, you and your dog could meet people, horses, mountain bikes, ATVs, other dogs, and wild animals. Help make the outdoor experience enjoyable for you, your dog and all the forest's users by following these safety tips:
Please remove all feces before vacating your site.
Give your dog plenty of water and rest, and watch for signs of stress and fatigue.
Keep your dog leashed and under control in campgrounds. Secure your pet in a shady spot and give it lots of attention to minimize barking.
If you encounter wild animals, respect them by restraining your dog.
Fireworks are prohibited
Fireworks or other explosives are prohibited within campgrounds and other recreation sites.
Fishing Rules: A fishing license is required to fish in this forest
A state fishing license is required to fish in this national forest.
A fishing license can be purchased over-the-counter at various stores in the local area. For more information, contact Idaho Fish and Game.
Full Listing
Camp, Hike
Added on 2 Nov 2017
Rigby, Idaho
2.0 miles N of Rigby, Idaho
Rigby Lake has long been a favorite swimming hole for those in the area. The county has taken it well under its wing and made it a buzzing spot on any warm summer day. Along with the long standing bathroom facilities and volleyball court, there is now two playgrounds. The beach has been extended along almost the entire South shore and is now covered with sand perfect for sand castles or even burying kids in the sand. There are two floating docks on the West end of the lake that are great for jumping into the water. One of the docks even has a slide that will drop you out over the water for a small splash. There's often a food truck parked there now as well. There are several pavilions big and small and a campground on the North end of the lake.
There are bouys that divide the safe swimming zone from the open water where you'll find plenty of canoes, kayaks, and paddleboards.
The lake, parking lot, facilities, and surrounding area is now fairly well maintained. To maintain everything, there is a $6.18 per vehicle access fee or you can buy a season pass for $30 (As of 7/6/2017).
When the lake drains and/or freezes in the winter, this is also a great spot to go sledding. There is no fee to park here in the winter.
Full Listing
Camp, Canoe, Dive, Kayak, Sled, Swim
Added on 13 Jul 2017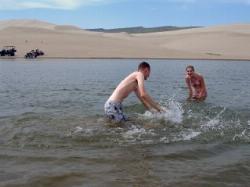 Saint Anthony, Idaho
8.9 miles W of Saint Anthony, Idaho
Egin Lakes is one of the favorite gateways to the St. Anthony Sand Dunes. The lakes themselves are unusually shallow and where you'll actually find a lake depends greatly on what time of the summer you go. The earlier in the year, the larger the lake. If you do find a lake, you'll find plenty of shallow areas for water games. The 2-3 feet deep areas are great for tackle football, ultimate frisbee, volleyball, or any other running game you want to take to the water. If you come early in the summer you'll find the lake extended pretty far east into the sandiest parts. It's the closest you'll find to a real beach in Southeast Idaho.
There is a $5 per vehicle access fee which gets you into a great parking lot, parts store, showers. The Egin Lakes Campground also offers a potable water system, RV dump station and 48 improved camp units, including electrical service. If you do ride ATVs at the dunes, be sure to take all proper precautions, including a flag for visibility.
Full Listing
Sled, Swim
Added on 13 Jul 2017
0.6 mi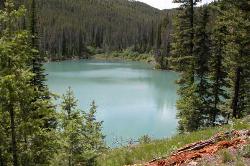 Tetonia, Idaho
9.3 miles W of Tetonia, Idaho
Packsaddle is one of the less well known lakes/trails in the area. If you've got a good offroad vehicle, you can probably make it all the way to the end of the road, otherwise, it's just an extra 0.5 miles up the hill. Even to get to that point though, you may push the limits of your car or mini van and be required to do some pretty technical driving. There are plenty of good spots to park along the road if you decide that's as far as you can drive. The descent to the lake is pretty steep (300ft elevation drop) but less than a 1/2 mile to the lake. You'll be able to see the lake from the top of the trail. There's a little camp area on the eastern edge of the lake.
Mountain Bike Trail (From Lower Trailhead)
It starts on a slight incline and then gets gradually steeper. Trail is pretty smooth. After a tough climb, you get a downhill followed by a field. Then there's a fork in the road. If you actually want to get to the lake, take a left at the fork. Climb some more. View the beautiful Tetons on your left. You'll come to a clearing at the top. If you look down to the left, the lake is between the trees down the steep decline singletrack. Don't ride right into the lake. It's freezing, and does a quick dropoff. Courtesy of Singletracks.com
Full Listing
Dive, Hike, Mountain Bike, Snowshoe, Swim