942

New Arena List

by smbrady17
first
prev
1
next
last
Add Location
6.6-6.7 mi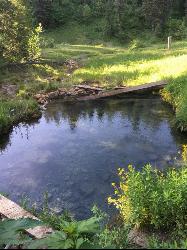 Irwin, Idaho
9.8 miles S of Irwin, Idaho
Bear Creek Hot Springs is a 15 mile out and back trail with a hot spring at the end. The trail is not well marked and is only recommended for very experienced outdoorsmen and primarily used for hiking. It is also popular for horses and motorcycles. During archery season, the area near the pool is a popular area for a hunting camp. The pool itself is about 10ft x 10ft. Most of the time, this soak is pretty secluded so it's often a clothing optional soak. Just be courteous of others when they're there.
Full Listing
Backpack, Camp, Hike, Horseback, Hot Springs, Mountain Bike
Added on 8 Sep 2017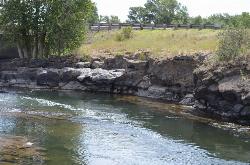 Ashton, Idaho
6.6 miles SW of Ashton, Idaho
Right off Highway 20, there's a great spot to swim, swing, and dive. There's pullouts for parking right next to the bridge. There's a rope swing under the railroad bridge and a little swimming hole to the North. As always be careful of water levels. There are rocks down the middle of the river on the North side. If they're covered, the water is high.
Full Listing
Dive, Swim
Added on 1 Jun 2017
3.2-47.0 mi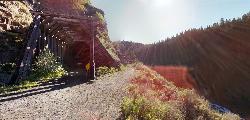 Ashton, Idaho
7.6 miles NE of Ashton, Idaho
Yellowstone branch line trail runs from Warm River to the Montana border totaling 39 miles. There are a few places to jump on and off the trail as well as a few smaller trails that branch off of this larger trail. A lot of the traffic covers small portions of this trail so not many people tackle the trail in its entirety. The trail offers a variety of different activities. It is open for backpacking, hiking, mountain biking, horseback riding, and all terrain vehicles under a certain size. Depending on what you want to spend your day doing it's a good idea to plan accordingly.
Also known as The Great Western Trail of Idaho, The Warm River Rail Trail, Route of the Yellowstone Special, or the northern portion of the Yellowstone Grand Teton Rail Trail.
Full Listing
Backpack, Cross-country Ski, Hike, Horseback, Mountain Bike
Added on 25 Apr 2017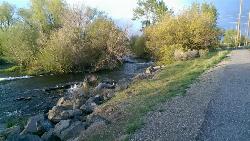 Saint Anthony, Idaho
0.6 miles SW of Saint Anthony, Idaho
This is a great walk along the river. While it is nestled right next to the highway, the closeness and beauty of the river flowing on the other side of the trail more than make up for it. Halfway along the trail, there's a statue of Andrew Henry and a loop that will take you right back for an easy 1 mile. The full length is a mile itself making a full 2 mile round trip.
Pet Friendly: Yes
Difficulty: Easy
Trail: Paved
Length:
Statue Loop: 1 mile
Full Round Trip: 2 miles
Full Listing
Hike
Added on 25 Apr 2017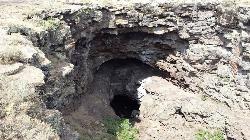 Rexburg, Idaho
29.2 miles N of Rexburg, Idaho
Not to be mistaken with the Civil Defense Caves (which are near by), the Ice Caves are about an hour North outside of Rexburg. The Ice Caves were originally formed as lava tubes. Over the years they have maintained fairly cold temperatures and as moisture and water seeped in, it froze. The ice now remains frozen year round and makes for an awesome time. The ice caves are a few hundred yards deep and require good footwear, warm clothes and a flashlight to navigate.
Full Listing
Cave
Added on 7 Apr 2017