171.1K

New Braunfels Area Swimming Holes

by freearenas
first
prev
1
next
last
A traditional German town, at the junction of the Comal River and the Guadalupe River, with lots of water tubing and water park activities and other tourist attractions. Courtesy of swimmingholes.org
Check out a few of the free places in the area:
Add Location
San Marcos, Texas
1.0 miles SE of San Marcos, Texas
This is a great place to cool off in the San Marcos River and you can get in some showing off time while you're at it. Just off Thompson Island, there's an ideal tree for a rope swing. It's got a great plank ladder so you can climb it as high as you like. The rope is strong and long enough to give you a good whip as you swing out over the river.
Full Listing
Dive, Swim
Added on 2 Apr 2019
New Braunfels, Texas
0.4 miles N of New Braunfels, Texas
Prince Solms Park is known for its strikingly blue, refreshing waters. Located on the Comal River this 19-acre park is the perfect spot for swimmers and tubers to enjoy for the day.
Prince Solms Park has the most exciting entrance to the Comal River for tubers. The City Tube Chute is a fast-moving water slide carved into the side of the city dam. The City Tube Chute is the largest slide of its kind and is an exciting destination for visitors.
Visitors may bring their own tubes, rent a tube at the chute's entrance or rent a tube from one of several outside sources. If a visitor wants to go down the chute more than once they must pay a $5 admission fee. Once the fee is paid you are free to ride down the chute as many times as you can handle.
The riverfront at Prince Solms Park is a wonderful place to swim. The water here is flat and calm. For the best swimming experience, visitors should try 200 yards from the chute exit in either direction.
On land, Prince Solms Park has several exciting amenities including a disk golf course and a tennis court. The disk golf course is nine holes and is open to the public. There is no admission fee for the disk golf course.
From May 1st to Labor Day parking spaces in Prince Solms Park are $20. Residents may purchase a year-long player-parking pass for $20.
Full Listing
Disc Golf, Swim
Added on 2 Apr 2019
0.2-2.0 mi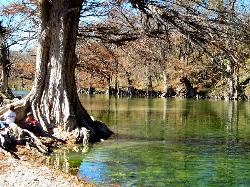 Spring Branch, Texas
5.1 miles W of Spring Branch, Texas
Guadalupe River State Park is a wonderful place to enjoy the beautiful Guadalupe River and the land around it.
The park has over 4 miles of river front where visitors can enjoy swimming, fishing, wading in the water, sitting on the shore, kayaking, and canoeing. The river varies in depth allowing for these different activities. People of all ages will enjoy the variety available on the river.
Floating on tubes over the calmer parts of the river is an activity that is enjoyed by many. Don't own a tube? Rentals are available at the park.
Guadalupe River State Park also features over 13 miles of trails available to hikers and mountain bikers. A few of these trails also allow for horseback rider access, including the Painted Bunting and River Overlook Trails.
There are 85 campsites at the park available for reservation. These campsites have water and electricity available for RV and tent campers. Nine additional primitive campsites are available for walk-ins on a first come first served basis. These primitive campsites do not have water or electricity, allowing campers to enjoy being more connected to nature.
The entrance fee to the Guadalupe River State Park is 7 dollars per person. Children 12 years old and younger can enter the park for free.
Guadalupe River State Park is a wonderful place for the citizens of Austin, Dallas and other surrounding cities to escape and enjoy the great outdoors many times over.
Full Listing
Canoe, Hike, Horseback, Kayak, Mountain Bike, Swim
Added on 25 Mar 2019
New Braunfels, Texas
1.3 miles NE of New Braunfels, Texas
Cypress Bend Park is one of the many charming public parks in the New Braunfels area. This park is a spacious 15 acers of play area. Cypress Bend is aptly named for the many cypress trees that line the Guadalupe River and create a beautiful sanctuary.
The park has fields, swings and a playground for visitors to use. These spaces are wonderful for families to come play catch or frisbee and enjoy the nature around them. The park is also equipped with horseshoe pits that are open for public use. There is a restroom building and parking available here.
Cypress Bend Park neighbors Guadalupe River. Visitors to this park can use the river as a fishing or swimming hole. The river varies in depth on different days. The days the river is higher it is calm and great for swimming. On the days where the river is shallower it makes for an enjoyable wading area.
This peaceful park is the perfect place to try and spot some wildlife. There are many varieties of birds and fish that live on the Guadalupe River and are frequently spotted by visitors.
A visit to Cypress Bend Park is a fun and relaxing way to reconnect with nature.
Full Listing
Swim
Added on 25 Mar 2019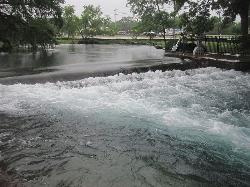 New Braunfels, Texas
1.0 miles NW of New Braunfels, Texas
Landa Park is a 50-acer, beautiful respite for locals and visitors alike. With its many uniquely charming attractions, this park is a place you will want to visit and revisit many times over.
Landa Park is known for the beautifully clear water in its lake and streams. Visitors can enjoy the water in many different ways. There are extensive paved and unpaved walking trails to explore and see every unique view. From the beautiful bridges to the historic gazebo, the paths around Comal Springs are a charming and peaceful place to walk, ride bicycles or skateboard.
Visitors can also enjoy the clear water by fishing at the Fishing Pier on Landa Lake. Fishers are welcome to use a regular rod and reel to fish in this area. A state fishing license and freshwater fishing stamp are required.
For visitors wanting to enter the water there are 3 spring fed pools they can enter. These pools are shallow and great for children. One of these three pools is a wading pool located on the Comal River, or Landa Lake. The water is a pleasant 72 degrees year-round.
During the summer months, visitors can rent a paddleboat to explore Landa Lake and the Comal Springs. Paddleboat rentals are 3 dollars a person for a 30-minute paddle. A minimum of two tickets are required to be purchased. Children 3 years old and younger are free.
Visitors looking for a more unique and complete view of the park can buy a ticket for the Landa Park Miniature Train. During summer months the train is open daily. During other months of the year the train is open on weekends and holidays. Train tickets are 4 dollars per person. This train is an enchanting experience for young children.
The Landa Park Mini Golf Course is open similar hours to the train and costs 4 dollars a person.
The variety of activities available make Landa Park a wonderful place to spend any day of the year. Come and enjoy a day in the shade of the ancient oak trees gazing at the crystal waters.
Full Listing
Hike, Swim
Added on 25 Mar 2019
New Braunfels, Texas
21.9 miles NW of New Braunfels, Texas
Nichol's Landing is a unique spot on the Upper Guadalupe River. Nichol's Landing is the area where the Upper Guadalupe River can be accessed with the most ease. Unlike most other access areas, Nichol's Landing had off road parking close to the river, making it easy to reach the river without strenuous hiking.This ease of access makes Nichol's landing a unique and valuable put in or take out point for kayaks and canoes.
The depth and rapids on the Upper Guadalupe River vary from day to day. Most of the time beginners can navigate these waters in canoes, kayaks or tubes.
In addition to being a great point to begin or end a floating journey, Nichol's landing is a great swimming hole. There is a sandbar that narrows the river into a smaller channel and a rope swing hanging from a cypress tree.
The Upper Guadalupe River is lined with beautiful cypress trees and limestone shelves. These unique views can be enjoyed by visitors as they participate in their various activities.
Fishing is allowed at Nichol's Landing. This section of the Guadalupe River is home to several types of bass, carp, crappie, gar and catfish. Small lures and a light line are recommended and Texas fishing regulations apply.
Before participating in any activity on this river, it is recommended that visitors check the rate of the rivers flow. The river is safe for any activity when its flow is between 100 and 800 cubic feet per second. Flow rates can be found online using www.wordcc.com or waterdata.usgs.gov.
Whether you are swimming, fishing, floating or paddling you will enjoy your day on the Upper Guadalupe River at Nichol's Landing.
Full Listing
Canoe, Kayak, Swim
Added on 25 Mar 2019