2.0K

Arizona's Best Swimming Hole Hikes

by camilledupar
first
prev
1
next
last
Have you ever been in a beautiful waterfall amidst an equally beautiful desert? Some of Arizona's best swimming holes are a short hike away! Come and explore the best of what the Grand Canyon state has to offer by exploring the other great canyons! This list is a great start to help you find your next favorite river, pond, pool, or waterfall!
Add Location
Mesa, Arizona
17.7 miles NE of Mesa, Arizona
Pebble Beach is a popular place to go tubing and swimming with designated picnic areas. It's located along the Salt River in Cibola National Forest. The reason the Salt River is so salty is actually due to a type of tree that grows along the river's edge. The Salt Cedar or the Tamarix tree wasn't native to the area until it was introduced to prevent the river bank from eroding as well as catching the top soil from nearby farming regions. The doesn't produce salt but rather draws salt from the soil underground. As the wind blows and the leaves fall from the Tamarix trees, salt is dispersed throughout the land. Since these trees border the river, it makes the entire river salty.
Full Listing
Swim
Added on 18 Oct 2017
1.1 mi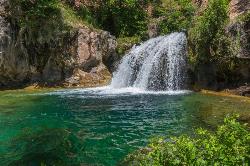 Pine, Arizona
9.2 miles W of Pine, Arizona
Fossil Creek is one of Arizona's two designated "Wild and Scenic" rivers. The waterfall is the most popular place to visit to cool off and see the natural beauty. Located between the towns of Strawberry and Camp Verde, south of Flagstaff, the creek is a uniquely lush piece of Arizona's Coconino National Forest. The waterfall is a short hike away from the parking area, which is itself a long drive down a dirt gravel road. At the base of the falls is a pool deep enough to swim in, and refresh from a hot day.
There is a restroom at the trailhead, but there is no potable water or trash service, so be sure to pack out all trash to keep the environment clean for the others who follow behind. Take care to stay on the trail, since many have seen snakes along the path.
Note that this hike does not lead to the old Fossil Creek Dam, or the "Toilet Bowl", as that is a separate trail.
From April to October, registration and a $10 pre-printed parking permit is required for day use at the site. You cannot get a permit on site, so make sure to have it before you leave. The rest of the year, no permit or registration is required. You can get your permits at https://www.recreation.gov/permits/251863
Full Listing
Hike, Swim
Added on 13 Oct 2017
2.2-6.1 mi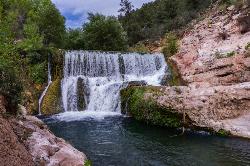 Pine, Arizona
6.6 miles W of Pine, Arizona
Hidden within the vast Arizona desert is an oasis of a river that brings the surrounding banks to life around it. This is Fossil Creek--one of Arizona's two designated "Wild and Scenic" rivers. The creek offers a natural shelter for native wildlife, and has several destinations for people to enjoy themselves--including two waterfalls. One waterfall has a short, one mile hike from the parking lot; this is not that hike.
Despite the name, the Toilet Bowl is a beloved hiking destination due to its beautiful waterfall over the old dam along Fossil Creek. The name comes from a round slide on the side of the river into which many enjoy diving. The bowl will spin the diver around, and out into the main pool from the base of the falls. There is also a shallow cave from which swimmers can hide from the sun.
The dam can be accessed by hiking either Flume Trail to the west, or Fossil Springs Trail from the east. Be sure to bring plenty of water, no matter which trail you choose to hike down and back. The water at the falls is not safe to drink without purification.
Both trailheads require a $10 preprinted parking permit during the months of April through October, so be sure to register online and have that ready before leaving.
Full Listing
Dive, Hike, Swim
Added on 13 Oct 2017
0.9 mi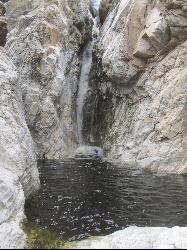 Tucson, Arizona
15.4 miles E of Tucson, Arizona
Tanque Verde Falls are a set of waterfalls and pools inside of Tanque Verde Canyon near Tucson, Arizona. The canyon is located within Coronado National Forest. There is a parking area on the side of the road, near a trailhead. From there, it's a short hike to the water. An optional trail leads directly to the falls themselves, although this portion is a slightly more difficult climb due to boulders and such along the path. Due to the short hike distance, this is a popular location to cool off.
The best time to go is from September through May, avoiding the summer heat.
This area is considered the "most dangerous" waterfall hike in Arizona, as there have been around 30 deaths since 1971 due to flash flooding and cliff jumping. The area is at high risk for flash floods during monsoon season, and the water level varies, so be very cautious. Pay attention to local weather conditions, stay away from slippery rocks, and don't jump if you're unsure of how deep the pool is.
Full Listing
Hike, Swim
Added on 29 Sep 2017
2.8-3.5 mi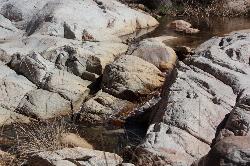 Tucson, Arizona
14.1 miles N of Tucson, Arizona
Nestled in Arizona's Catalina State Park, just north of Tuscon, are the Romero Pools. The pools are accessible by a hike through Romero Canyon that takes an average of two hours. The hike gets progressively more difficult as you go along, making a dip in the pools all the sweeter. Although the pools are fed by a stream that dries up seasonally, the pools are there year round to enjoy. 
It is advised to avoid the pools during rainstorms, as there is an increased risk of flash flooding. On the other hand, a few days after the rain, the pools will be more full. Due to heat concerns, this hike is also best used from September through May. 
As this trail is located within a state park, an entrance fee of $7/vehicle (up to 4 adults) applies. 
Full Listing
Hike, Swim
Added on 29 Sep 2017
1.0-7.5 mi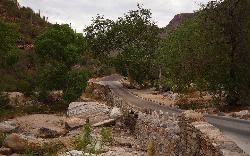 Tucson, Arizona
8.6 miles NE of Tucson, Arizona
Hutch's Pool is a popular destination near Tucson, Arizona. Famed for its cool water in the desert heat, the pool is an 8-mile hike round trip into the canyons and mountains of Sabino Canyon Recreation Area. Though the hike officially begins at the Sabino Canyon Recreation Trailhead, to get there, you need to travel an additional 3.8 miles from the parking lot by the visitor's center, potentially making a 16 mile round trip in total (though the path from the parking lot to the trailhead is paved, and has several areas to stop and rest.) There are spectaular views of the desert landscape along the trail, and an abundance of cacti.
The hike itself has little shade, so sunscreen and a hat are encouraged. Though Hutch's Pool is refreshing and a welcome relief from the warm sun, the cooling effects will have worn off by the time you're well on your way, so bring plenty of water. As with most hikes in Arizona, it is best advised to plan your hike from October through May, avoiding the excessive heat of summer.
As the trail is located within Catalina State Park, there is a $5 day pass required per vehicle. In addition, an optional tram ride to the trailhead (Stop #9) is $10 for adults, $5 for children age 3-12.
Full Listing
Hike, Swim
Added on 29 Sep 2017
0.2-3.6 mi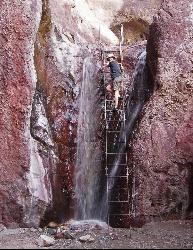 Willow Beach, Arizona
8.1 miles NW of Willow Beach, Arizona
Arizona Hot Springs is located within a 3.25 mile hike along desert canyons inside of Lake Mead National Recreation Area.
At the trail head, there are two hikes available; the Liberty Bell Arch trail brances off, and does not go to the hot spring. Follow the White Rock Canyon trail to find the spring.
This hike makes for a nice overnight outing, as there are nice places to camp at the river and in the canyon just above the hot springs. Courtesy of birdandhike.com
Safety: The trail and subsequent springs are CLOSED during summer, June-September, due to extreme temperature conditions--however, during the rest of the year, weather permitting, it is a great hike.The hike is rated as "strenuous," and it is advised that you should travel with a companion. Once at the hot springs, take care not to put your head underwater, as this could put you at risk for a rare ameobic infection, although there are signs on site that will remind you.
Full Listing
Camp, Hike, Hot Springs
Added on 29 Sep 2017
2.7-3.5 mi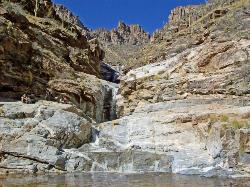 Tucson, Arizona
8.6 miles NE of Tucson, Arizona
Seven Falls is a waterfall located in the Sabino Canyon near Tucson, Arizona. It's a great hike and a fun swimming hole, and listed often as one of the best or most popular activities of the region. The hike itself leads through Bear Canyon inside of Coronado National Forest, and crosses a stream seven times before making it to the actual falls.
The waterfalls and streams are fed by local snowmelt and rainfall, so it's best hiked in late winter or early spring for optimal water levels. As with most hikes in Arizona, be wary of hiking in the summer, due to excessive heat, and no matter the season, be sure to bring plenty of water.
The parking lot for the visitor center requires a $5 day pass for use. There is also an optional tram service that will shave 1.8 miles each way off your hike, but it costs $10 for adults, and $5 for children 3-12.
Full Listing
Hike, Swim
Added on 29 Sep 2017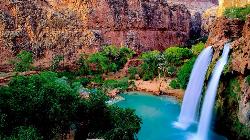 Supai, Arizona
5.4 miles S of Supai, Arizona
Backpack, Dive, Horseback, and Swim near Supai, Arizona
Full Listing
Backpack, Dive, Horseback, Swim
Added on 11 Apr 2017
0.2 mi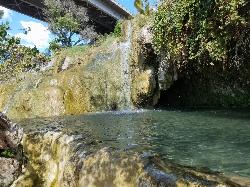 Littlefield, Arizona
0.8 miles NE of Littlefield, Arizona
Little Jamaica is a warm springs waterfall and pool just off the highway between Desert Springs and Littlefield, Arizona. It's a family location that doesn't get more than 5 feet deep in the pools. The plant life and rock features will make it feel a little more like you're playing in the tropics than the middle of the desert. There's even a plant covered grotto over part of the pool to complete the tropical atmosphere.
Full Listing
Hike, Swim
Added on 7 Apr 2017