942

Hidden Gems for BYU-Idaho Students

by smbrady17
first
prev
1
next
last
Every BYU-Idaho student has heard the all too common complaint that there is "nothing to do in Rexburg." But how true is it?
This is a collection of the best places for college students to hang out in or around Rexburg. While some may be more popular, you might find some new places to adventure during study breaks.
Plus check out https://www.freearenas.com/things-to-do-near-byu-idaho
Add Location
Saint Anthony, Idaho
4.3 miles SE of Saint Anthony, Idaho
Less than 1/2 a mile down the road from the Monkey Rock waterfall, Hog Hollow Bridge is a favorite spot for adrenaline junkies to cool off. The place to jump is off the East side of the bridge where it's deeper. It's about a 25 foot jump, depending on the water level. Always be careful of fast moving water, as well as rocks and debris below the surface.
CAUTION: This jump is from an active roadway so please be careful and considerate of drivers. They do have the right of way on the bridge and the road is often traveled by large trucks who will have difficulty stopping for a swimmer that decides to run out in front of them while they're crossing a bridge.
PLEASE NOTE: Ton the roads leading to the Hog Hollow Bridge, the speed limit is 35 mph for the last mile. There are kids, cows, horses, and dogs along that road and many people tend to speed going to and from Monkey Rock. Slow down and stay safe.
Full Listing
Dive, Swim
Added on 5 Jun 2018
0.1 mi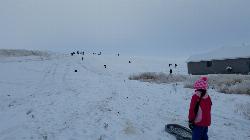 Rexburg, Idaho
1.8 miles SE of Rexburg, Idaho
This is a great sledding hill. It's about the perfect steepness and really wide. It's also big enough to make it worth a little run on a snowboard or an inner tube. While this is a pretty popular hill, it's pretty hard for it to get overcrowded.
In 2017, some houses were built at the bottom of the hill that make it a little less perfect but there's still plenty of hill for a good time. You just need to be respectful of the people's homes and the end of the slope. There's also a little winding rutted dirt road that comes down to the left of the hill that sometimes is a pretty great little run if the snow's just right.
Full Listing
Sled
Added on 12 May 2018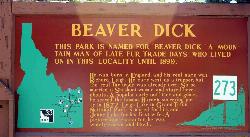 Rexburg, Idaho
5.7 miles W of Rexburg, Idaho
Beaver Dick is a park 4.5 miles west of Rexburg, Idaho on Hwy 33. It's a 9.5 acre park that passes next to the west bank of the Henry Fork of the Snake River; it's a popular place for swimming, fishing and other water activities such as boating and canoeing.
Within the campgrounds, there are fire pits, pavilions for social events and gatherings, bathrooms and a playground for the kids. It almost makes for good rounds of walks around the outskirts of the Snake River while enjoying the scenery.
History:
The park was named after an English-American named Richard Leigh. He was reportedly given the moniker "Beaver Dick" by LDS president Brigham Young for his beaver trapping abilities. As a young boy, he left England and moved to the United States to make a living as a fur trapper and eventually, fought in the Mexican war at 17 years old. He traveled throughout the Teton laying traps for beavers for fur, hunting and mapping out the Fire-Hole [Yellowstone Park], Jackson Hole and west of the Tetons in his journal. He became a fluent speaker of the Bannock and Shoshone language, met and married a native American woman named Jenny and had 6 children. The family adopted a child that contracted smallpox; the family of the child died. The family, including the adopted child, died of smallpox and Beaver Dick survived. He later remarried to a Bannock Indian named Susan Tadpole in 1979 and had 3 children. He lived the rest of his life as a mountain man but in 1899, he passed away of a serious illness and was buried beside his family overlooking his ranch in Rexburg, Idaho. He will be remembered as a skilled hunter, trapper and an expert in exploration and settlement of the Tetons, guiding travelers and explorers throughout the mountain west.
Tips:
-Bring water; there are no water fountains
-Bring life jackets in case of strong water currents during swimming
-Beaver Dick is open 7 days a week
-Make camping reservations in advance; first come, first serve
Camping Fees:
- $5 a night or $15 for all 5 day/night stays
For reservations, information, questions or concerns:
-Phone number: (208)-356-3139
-Website: https://www.co.madison.id.us/departments/parks-recreation/30-beaver-dick-park
The use of this field for playing paintball is now prohibited. Please take better care of the fields we are permitted to use.
Full Listing
Camp, Canoe, Disc Golf, Swim
Added on 12 May 2018
Rigby, Idaho
2.0 miles N of Rigby, Idaho
Rigby Lake has long been a favorite swimming hole for those in the area. The county has taken it well under its wing and made it a buzzing spot on any warm summer day. Along with the long standing bathroom facilities and volleyball court, there is now two playgrounds. The beach has been extended along almost the entire South shore and is now covered with sand perfect for sand castles or even burying kids in the sand. There are two floating docks on the West end of the lake that are great for jumping into the water. One of the docks even has a slide that will drop you out over the water for a small splash. There's often a food truck parked there now as well. There are several pavilions big and small and a campground on the North end of the lake.
There are bouys that divide the safe swimming zone from the open water where you'll find plenty of canoes, kayaks, and paddleboards.
The lake, parking lot, facilities, and surrounding area is now fairly well maintained. To maintain everything, there is a $6.18 per vehicle access fee or you can buy a season pass for $30 (As of 7/6/2017).
When the lake drains and/or freezes in the winter, this is also a great spot to go sledding. There is no fee to park here in the winter.
Full Listing
Camp, Canoe, Dive, Kayak, Sled, Swim
Added on 13 Jul 2017
0.8-1.3 mi
Rexburg, Idaho
5.0 miles NW of Rexburg, Idaho
This is a pretty popular campsite that fills up pretty quick on busy weekends. Campsites are fairly spread out and there is no official donation box (as of July 2015). A couple of the campsites have picnic tables and there are several rock fire rings. There's also a restroom next to each boat ramp.
It's a popular put in and takeout spot on the river with two boat ramps, one on the creek and one on the river. There's also a pretty good spot to take out innertubes just under a mile downstream from the boatramp that's on the river, yet the boat ramp and takeout are only about 1000 feet away from each other which makes it really easy to do over and over again. There's another put-in further upstream that will almost double your float but also significantly increase your walk back. It's a pretty slow easy float and the water isn't super cold.
This used to be a popular spot for paintball which is now prohibited. Please take better care of the paintball fields we are permitted to use.
Full Listing
Airsoft, Camp, Canoe
Added on 13 Jul 2017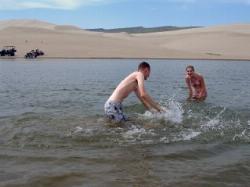 Saint Anthony, Idaho
8.9 miles W of Saint Anthony, Idaho
Egin Lakes is one of the favorite gateways to the St. Anthony Sand Dunes. The lakes themselves are unusually shallow and where you'll actually find a lake depends greatly on what time of the summer you go. The earlier in the year, the larger the lake. If you do find a lake, you'll find plenty of shallow areas for water games. The 2-3 feet deep areas are great for tackle football, ultimate frisbee, volleyball, or any other running game you want to take to the water. If you come early in the summer you'll find the lake extended pretty far east into the sandiest parts. It's the closest you'll find to a real beach in Southeast Idaho.
There is a $5 per vehicle access fee which gets you into a great parking lot, parts store, showers. The Egin Lakes Campground also offers a potable water system, RV dump station and 48 improved camp units, including electrical service. If you do ride ATVs at the dunes, be sure to take all proper precautions, including a flag for visibility.
Full Listing
Sled, Swim
Added on 13 Jul 2017
Saint Anthony, Idaho
3.1 miles E of Saint Anthony, Idaho
Also known as the Funny Farm Bridge, this is an excellent place for bridge jumping. You can jump from the road level, the top of the bridge, or swing from the bars below. Just be watchful of cars as this bridge is still in use. It just downstream from a boat launch which has parking and a restroom.
Full Listing
Dive, Swim
Added on 1 Jun 2017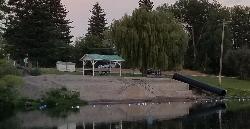 Saint Anthony, Idaho
0.2 miles SE of Saint Anthony, Idaho
CLOSED. //// Sand Bar Update //// ***As of 27 June 2019 *** The Sand Bar is still closed to ALL swimming, please do not cross the boundary line. We are closely monitoring the river flows (currently at 2100 CFS) we typically like to see the levels at approximately 1200 CFS before swimmers are allowed in the water. We are anticipating opening the Sand Bar to swimmers very soon, we ask that you be patient and respect the closure until then. SAPD.
The Sand Bar is located on the Henry's Fork of the Snake River.. It has been the local swimming hole for more than 60 years and features a shelter, picnic tables, a water slide, a playground, sand boxes, a roped area for swimming and a diving board. A popular place for families, and visitors to cool off in the heat of the summer. There is no charge to use the Sand Bar, but the park cannot be reserved. It has a shallow, bordered swimming area for novice or non-swimmers, and a diving board and floating platform area for better swimmers.
The park has sandboxes on the sides of the steps down to the water and a small water slide which ends in the novice swimming area.

Swim at your own risk. The Sandbar is a popular place. No dogs are allowed in the park.

Take precautions when swimming in rivers with fast currents like this one.

The diving board is safe as long as you:

1. Don't use it when the river is running high, fast and cold.
2. Jump or dive off the front, not to the sides. There are huge rocks to the sides. Stick to the front to avoid getting hurt.

Don't swim in the "safe area" if the buoys aren't up. It is not safe until the City of St. Anthony puts them up.
Full Listing
Dive, Swim
Added on 1 Jun 2017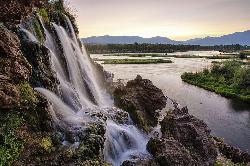 Swan Valley, Idaho
2.1 miles SW of Swan Valley, Idaho
Falls Campground is located next to the Snake River near beautiful Swan Valley, only 45 miles east of Idaho Falls, Idaho. Mixed growth cottonwood trees provide partial shade, and grassy meadows with summer wildflowers dot the area. Wildlife is plentiful in the river bottom; eagles, osprey, moose, and deer are frequently spotted. Fall Creek Falls is about 1/4 mile from the campground. The Snake River offers excellent trout fishing, canoeing, rafting, and kayaking. Spring Creek and Conant Boat Ramps, open to the public, are nearby. Palisades Reservoir is less than 20 miles from Falls Campground, with great boating, waterskiing, canoeing, fishing, and swimming.
Full Listing
Camp, Cave, Hike, Kayak, Swim
Added on 7 Apr 2017
0.3-0.6 mi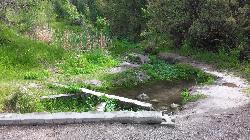 Rexburg, Idaho
11.9 miles S of Rexburg, Idaho
Meandering along the scenic South Fork of the Snake River, the beautiful 1¼ mile Cress Creek Nature Trail will lead you on a journey through sagebrush-grass communities, over juniper covered slopes, and along a lush perennial creek. Cress Creek derives its name from the watercress plant, a favorite food of the moose that live in this area. With clear skies, prepare for an expansive view of the Snake River, volcanoes and farmland. The site offers ample parking, restrooms and trail accessibility, which attract a wide spectrum of trail users to the area. You will become familiar with life in the Cress Creek area as it is now and as it was long ago. If you hike quietly you may see deer, rabbits, small lizards, or possibly an eagle or a moose. The nature trail is self-guided with many beautiful interpretive signs posted along the way to assist you. The first half-mile of the trail is accessible by wheelchair.
On the northeastern corner of the trail, there's an overlook trail. Parts of it are pretty nice like the rest of the loop but some is barely recognizable as a trail. Parts of the trail are steep and parts of it go over some pretty loose rock. It goes for about a ½ mile all the way to the top of the hill. Just below the rim, there are several really cool caves. From the top, you can see from Rexburg to Idaho Falls.
Full Listing
Hike
Added on 7 Apr 2017