first
prev
1
next
last
During my internship here, I was able to update and write the content for it. These arenas were my favorite locations that I wrote about and I am proud of.
Add Location
0.4 mi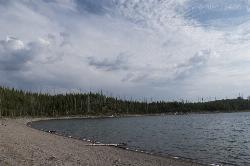 Grant Village, Yellowstone National Park
1.5 miles N of Grant Village, Yellowstone National Park
Duck Lake Trail is located near Grant Village and West Thumb. This is a simple 0.8 miles hike that takes you through the Lodgepole pine forest. This hike is special because the surrounding forest  details the catastrophic effects of 1988 wildfires. The forest also displays its resilience as saplings push through the soil to replenish the forest. The path for the trail begins on the main road across from the parking lot.The trail itself goes up a hill and then as you reach the peak of the hill, the beautiful Duck Lake is exposed.The hill then slopes onto the shore of Duck Lake creating a sandy beach feel.There are many tress that have fallen along the shoreline due to the fire. These trees can be used as a seating area, or picnic area.This trail is great for hikers of all ages.The hardest portion of the hike is the beginning, but making it over the hill will be well worth it. The lake can be enjoyed for its scenic value. Duck Lake has many calming properties because it is a very still lake. Apart from wind forming ripples, you won't see much action in the lake itself. If you'd like, you can also take a stroll along the beach and relax. 
Except for the occasional buzz of cars near the west end of the lake, you might have little idea that this lake is just 100 yards from the highway. Many hikers have said that the most peaceful time is during the evening right before the sun sets over the lake. 
WARNING: This location is not considered a swimming area and would be best if you wore closed-toe shoes and kept shoes on because leeches have been reported. 
Full Listing
Hike
Added on 20 Jul 2018
4.8 mi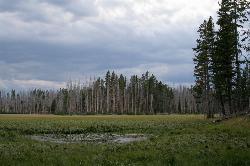 Grant Village, Yellowstone National Park
2.8 miles S of Grant Village, Yellowstone National Park
Riddle Lake hike is a 5 mile roundtrip hike. Riddle Lake is an alluring body of water with a sandy beach. The hiker gets the best of both worlds on this hike. Impressive pine and mountain views, meadows, and a lake with a mini beach area.The trail is an easy hike because elevation is hardly detectable, and allows the hiker to focus on the scenery.This hike takes you through a blanket of forest, then a dirt trail. You will pass several tree trunks covered in scratch marks, offering fresh evidence that bears frequent this area*. This hike is closed for a majority of the hiking season due to swans nesting in that area. To know if it is available to hike, contact a park ranger.
The history of Riddle lake dates back a few centuries. It was named by early explorers in the 1800's who were uncertain about which ocean the lake drained toward because it sits so close to the Continental Divide- it was believed flow toward both the east and west oceans and then later discovered that it actually flowed into Yellowstone Lake.
This area does attract a lot of wildlife such as Elk, Moose and Grizzly bears. Upon reaching the lake you can see the Red Mountains to the south. The trail then follows the shore and eventually ends at a black sand beach on the northeast side. Many people stop their hike when they approach the lake, but you can continue around the lake to enjoy the scenery. 
This is considered an easy hike with little elevation difference.
*WARNING: To stay extra safe, it is smart to have bear spray with you on your hike and also to make noise while you are on your hike to keep wildlife away. When it comes to wildlife, if you see them on your hike, do not approach them, for your own safety. You can take pictures of wild life but do not approach to pet. 
Full Listing
Hike
Added on 20 Jul 2018
6.1 mi
Old Faithful, Yellowstone National Park
6.3 miles E of Old Faithful, Yellowstone National Park
If you are just coming from Old Faithful and want a break from the crowds, this hike is a perfect leg-stretching, moderate 6.1 mile hike. This hike takes you through the forest and grassy trail. As the hike comes to an end, the trail gets wider and leads you to the edge of Shoshone Lake.
The name "DeLacy Creek Trail" comes from Walter Washington DeLacy, who was the leader of an expedition going through the Yellowstone region in 1863. He was credited for the first reliable map of Yellowstone two years after his expedition. Shoshone Lake used to be know as "DeLacy Lake" for a while. By 1872, Shoshone Lake held five or six different names until Park Superintendent P.W. Norris thought the name Shoshone Lake was fitting because of the Indians that frequently were found nearby. 
Fishing at Shoshone Lake is allowed if you have received a fishing permit from the park. If you catch a native fish to the park, you can catch and release it. If it is nonnative, there is no limit to how many fish you can catch. Native fish include the cutthroat trout, mountain whitefish and Arctic grayling. Nonnative fish include: brown trout, brook trout, rainbow and lake trout. Fisherman are asked to only fish with single, pointed, barbless hook and lead-free artificial lures. All watercraft needs to have a permit purchased from the park service
REMEMBER: Backcountry hydrothermal areas do not have boardwalks like the park does. Scalding-hot water and/or steam can lie beneath a thin crust. Be careful and use caution when entering Shoshone Geyser Basin. Stay away from areas that do not have vegetation, as that is a sign of a natural hydrothermal area. Carelessness in the backcountry thermal areas is dangerous and destructive to these rare features. 
Full Listing
Hike
Added on 20 Jul 2018
0.1-0.9 mi
Santa Cruz, California
2.0 miles SW of Santa Cruz, California
This trail is perfectly tucked away from the business of Santa Cruz. Monarch butterflies, during the Winter, fly here to stay warm. As you walk through the Monarch Grove, you will see trees covered with butterflies. Their wings fluttering look like tree leaves blowing in the wind, until you take a closer look. It is a peaceful place to be as you learn about Monarch butterflies and watch them fly around.
Monarch butterfly migration begins at different times but they start arriving in the grove around mid-October. This is the perfect time of year to take a nice stroll on the boardwalk and watch the butterflies. The park is filled with eucalyptus trees which give the butterflies the perfect protection for them in the winter months. Since this is a preserve, it is asked not to grab or hold butterflies and to stay quiet to help continue making them feel safe. The end of the Monarch season is around mid-February. It is the perfect, family friendly location. 
There is one main trail, but you can customize the length of your walk/hike depending on what you would like to do. 

The trail leads to a beautiful sandy beach. You will see a huge, beautiful rock arch to your left of the beach. The water is refreshingly cool. Watching the sunset over the water, pulls out the orange colors of the arch rock making the scene bright and peaceful.
This is the perfect location to see shore birds, migrating whales, and playing otters offshore. As you continue to walk around the beach, you will come across tide pools where you can get a glimpse of sea life. The low tide allows visitors to see star fish and other sea animals. It is a great location for families to explore and enjoy their time together.
Important Information: There is a $10 vehicle day-use fee. The water is shallow enough for children to play safely, but it is necessary for parents to supervise their children because there aren't lifeguards on duty. Bikes are permitted on the paved roads around the park and beach. Dogs are also permitted on paved roads and in the park but not on the beach. 
Full Listing
Hike
Added on 12 Jul 2018
0.3 mi
Burney, California
9.2 miles N of Burney, California
Burney Falls has been considered one of the most spectacular waterfalls in the state. It stands at 129 feet tall and is coated by curtains of green fern. The best part about this waterfall, for many hikers and Californians is that it flows year-round. This is one of the very few waterfalls in California that has good water flow throughout the year. The waterfall is loud, but can also be pretty remarkable in how peaceful it can feel.
The main attraction, can be accessed directly from the parking area or through many different trails which lead to higher or lower views of the falls. Each angle is beautiful in their unique ways. The best time of the day to go is earlier in the morning and a little before sunset. If you go in the middle of the day, it could get crowded.  
The water temperature never rises over 42 degrees Fahrenheit, but the fisherman never seem to mind because of the great fishing that happens. The fishing that takes place is catch-and-release fly fishing. 
There is an $8 day-parking fee at this park. Do not park on the street near the entrance of the park, because your car could be subjected to citations or be towed. 
Full Listing
Hike
Added on 18 Jun 2018
5.6 mi
Cool, California
2.0 miles N of Cool, California
This is a hike along the river and an old, historic railway. The trail leads you to a a beautiful amphitheater carved from limestone.You are surrounded by beautiful nature and peaceful noises. The trail is wide and you can take your time to take in all the beauty. The only part that is a little more difficult is the last stretch up to the quarry. 
The railway that you will see used to carry out limestone and was taken 7 miles to Auburn for cement productions. Each train was filled about four times a day. In 1942, the metal from the old railway was used as scrap metal during WWII. 
There are some places on the trail that aren't clearly marked, especially when you get to the quarry. Stay wary of where you are and keep an eye out for signs that will guide you to where you need to go. The trail is great all year around, but between April and June, the wildflowers are the most beautiful. 
KEEP IN MIND: California does charge $10 as a day-use fee for each car going into the parking area, although prices are subject to change. Dogs are allowed if they are leashed. There are no bikes allowed on this hike. 
Full Listing
Hike
Added on 18 Jun 2018