35.3K

IsaacSummer 2018

by endovereric
first
prev
1
next
last
Add Location
1.6-13.3 mi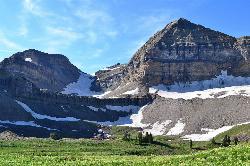 Provo, Utah
13.7 miles N of Provo, Utah
Mt. Timp, as the locals call it, is the 2nd highest mountain in the Wasatch range (only Mt. Nebo is higher). What sets "Timp" apart is its location. It towers over the Provo, Orem, Pleasant Grove area and its a very dominant feature. It rises 7000 feet from the valley floor and draws your gaze to it again and again.This mountain may be the most popular one in the state of Utah and is certainly the most climbed. Mt. Timpanogos is a huge mountain, extending almost seven miles in a north to south direction with many of its peaks reaching over the 11000 foot mark.
Full Listing
Camp, Hike, Horseback, Swim
Added on 29 Apr 2018
Tetonia, Idaho
9.4 miles N of Tetonia, Idaho
As part of the Rails to Trails project, this old railroad bridge has been transformed into a very safe little viewing experience for the whole family. You can drive right up to the bridge where there is a great little spot to park. Bitch Creek meeanders hundreds of feet below the bridge.
The bridge is part of the 30 mile Ashton-Tetonia Trail. Conant Creek Pegram Truss Railroad Bridge is further down the same trail.
Difficulty: Beyond easy
Full Listing
Hike
Added on 7 Apr 2017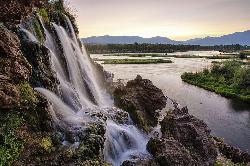 Swan Valley, Idaho
2.1 miles SW of Swan Valley, Idaho
Falls Campground is located next to the Snake River near beautiful Swan Valley, only 45 miles east of Idaho Falls, Idaho. Mixed growth cottonwood trees provide partial shade, and grassy meadows with summer wildflowers dot the area. Wildlife is plentiful in the river bottom; eagles, osprey, moose, and deer are frequently spotted. Fall Creek Falls is about 1/4 mile from the campground. The Snake River offers excellent trout fishing, canoeing, rafting, and kayaking. Spring Creek and Conant Boat Ramps, open to the public, are nearby. Palisades Reservoir is less than 20 miles from Falls Campground, with great boating, waterskiing, canoeing, fishing, and swimming.
Full Listing
Camp, Cave, Hike, Kayak, Swim
Added on 7 Apr 2017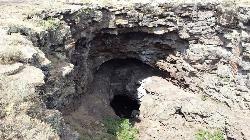 Rexburg, Idaho
29.2 miles N of Rexburg, Idaho
Not to be mistaken with the Civil Defense Caves (which are near by), the Ice Caves are about an hour North outside of Rexburg. The Ice Caves were originally formed as lava tubes. Over the years they have maintained fairly cold temperatures and as moisture and water seeped in, it froze. The ice now remains frozen year round and makes for an awesome time. The ice caves are a few hundred yards deep and require good footwear, warm clothes and a flashlight to navigate.
Full Listing
Cave
Added on 7 Apr 2017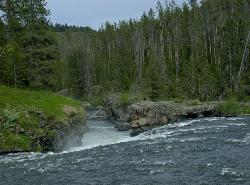 Ashton, Idaho
9.3 miles N of Ashton, Idaho
Sheep Falls cascades approximately 25' through a narrow basalt chute on the North Fork of the Snake River near Island Park, Idaho. Compared to nearby Lower and Upper Mesa Falls, that height may not sound particularly spectacular but it is a pleasant hike on a relatively well maintained trail and is rarely crowded.
Full Listing
Hike
Added on 7 Apr 2017
Idaho Falls, Idaho
16.1 miles W of Idaho Falls, Idaho
Seventeen Mile Cave is a lava tube, a cave created by the pocket in which lava used to flow and was left empty when the volcano became inactive. The cave gets its name from its location, just 17 miles outside of Idaho Falls. The entrance to the cave can be found a few hundred feet from the highway. The tunnel itself is a little less than ¼ mile long.
The floor of this cave is much smoother than most cave floors. The practically flat surface makes it easy to walk the length of the cave. The cave is not lit and, like most caves, is cool and humid throughout the year. Visitors should come to the cave prepared with flashlights and jackets.
The cave has one main tunnel that is easy to follow. There is no need to worry about getting lost. The end of the quarter mile trail is marked by two pools accompanied by a swampy area. It is difficult to get further than this area of the cave.
Seventeen Mile Cave is a cave that receives a lot of traffic from the surrounding cities of Rexburg and Idaho Falls. This heavy traffic has caused the cave to have heavy graffiti covering most of its walls. Litter is also frequently found on the cave floor.
For those who live in Rexburg and Idaho Falls, Seventeen Mile Cave is easily accessible. This cave is easy to walk through and great for beginning spelunkers.
Full Listing
Cave, Hike
Added on 7 Apr 2017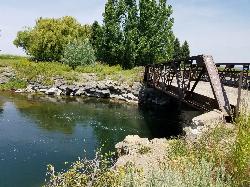 St. Anthony, Idaho
6.6 miles NE of St. Anthony, Idaho
There's an old abandoned bridge next to the one currently in use. The water is pretty deep underneath and offers two distinct levels to jump from. There's a little rope swing under the bridge and a path up river that makes a great put-in spot for a LITTLE float. If you've got little kids, there's a great little sandbar on the north side of the bridge just upstream from all the commotion. There are almost always people there on the nice days but you rarely ever have to wait to jump.
Full Listing
Dive, Swim
Added on 7 Apr 2017