38.1K

My Favorite Places

by endovereric
first
prev
1
next
last
Add Location
3.6 mi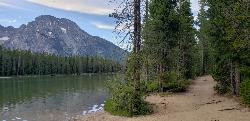 Alta, Wyoming
16.4 miles NE of Alta, Wyoming
String Lake is a shallow lake that connects Leigh Lake and Jenny Lake at the base of Mount St. John and Rockchuck Peak. From the lakeshore, you can also take in beautiful views of Teewinot and Mt. Moran. The shallow lake is much colder than the glacier lakes on either side. The warm water makes it great for a swim and there's a lot of great areas for kids to wade in. Got a Kayak or Canoe, you'll love how clear the water is as you'll be able to see the bottom anywhere on the lake. It's also a great way to access Leigh Lake and Jenny Lake to do some boating on more open waters. You can put in at String Lake, boat to an end, and then portage to the connecting lake at a much less congested part of the lake.
Rather go for a hike? The String Lake Trail loops around the lake and far enough up the hill that you can get great views of String Lake. Come a little later in the summer and enjoy wild berries along the Northern half of the loop. Stay away from anything that's bright red though. If you're looking for something bigger, the String Lake Trail connects into trails into Paintbrush Canyon, Jenny Lake, and Leigh Lake. The Leigh Lake connection is right at the north end of the lake on the East side of the bridge. From there it's 0.1 miles to the Leigh Lake portage and you will be doing yourself a huge disservice if for some reason you decide not to take this detour. At that point on Leigh Lake, you'll find a tiny little sandbar with lots of rocks sticking up out of the water for hopping around and some amazing views. The portage is only a couple hundred feet away from Boulder Island which beautifully frames the view of Mt. Moran towering over the peaceful lake.
Full Listing
Canoe, Hike, Kayak, Swim
Added on 5 Aug 2019
Rexburg, Idaho
0.5 miles NW of Rexburg, Idaho
There are 2 bowls right next to each other plus several boxes quarter pipes and rails. It's not huge but it's also rarely crowded. It's all concrete with metal edge, specially for grinding.
Full Listing
Skateboard
Added on 3 Jul 2019
0.6-2.0 mi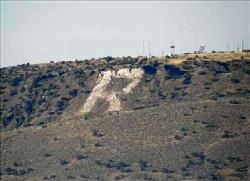 Menan, Idaho
4.5 miles N of Menan, Idaho
The North Menan Butte is more commonly known to the locals and college students as R Mountain. Many kids know it better as Ou'R' Mountain. The butte is a rare and unique geological area and provides a great volcanic hike.
There's a paved parking lot and a vault toilet at the West trailhead. The first few hundred yards are well-maintained gravel and sand paths and the further you get, the less defined the trail gets, though it is relatively easy to find and follow. The switchback trails (South and West) are marked by sections of log fences. Towards the top of the West switchbacks, there's a chain handrail.  It gets a little steep so you'll want some shoes with some grip. The sand on the rock makes it pretty slippery in the steeper parts. You'll get better grip after a good rain. Once you get up to the top, there's an informational placard. From there, it's easy to hike the rim and get an awesome view of the valley including Rexburg, Henry's Fork, and the Snake River.
It's a great hike for a small family or just a quick hike for a date. Even going up the West switchbacks and around rim, including the 'R', and back down the same way is only 3.5 miles (longest route) so you can do it pretty quick if you want. There's so much to look at that you could also spend hours climbing rocks, exploring caves, and playing around "The Ampitheater". If you just want to get to the 'R' as quickly as possible, you can do the hike in as little as 2 miles roundtrip.
Distances:
West trailhead up the face to the rim: 0.5 miles
West trailhead up the switchbacks to the rim: 0.75 miles
West trailhead, from reaching the rim to 'R': 1 mile
South trailhead to the rim: 0.3 miles
South trailhead, from reaching the rim to 'R': 0.75 mile
Through the caldera: 0.6 miles
Around the rim: 2 miles
Rim to 'R': 500 feet 
There are no fees. Camping is allowed up to 5 nights but fires must be in an elevated fire pan and all the ash must be packed out. 
Posted regulations:
No motorized vehicle use
Discharging of weapons or fireworks is prohibited
Open fires are permitted only with an approved elevated fire pan and ash removal
Burning pallets, tires, wire, plastic, glass, metal, magnesium, or hazardous material is prohibited
Cutting or damaging vegitation is prohibited
5-day camping limit
Full Listing
Camp, Cave, Hike
Added on 23 Oct 2017
11.9 mi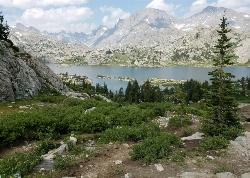 Pinedale, Wyoming
11.0 miles NE of Pinedale, Wyoming
Backpack, Hike, and Horseback near Pinedale, Wyoming
Full Listing
Backpack, Hike, Horseback
Added on 18 Sep 2017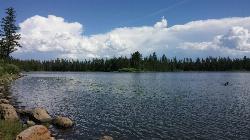 Ashton, Idaho
18.3 miles E of Ashton, Idaho
Horseshoe Lake is hidden back in the Targhee National Forest. It's a beautiful lake with plenty of lily pads. The road to get there is well maintained and there are many options for pull-outs and parking once you get there. The lake has a gradual decline great for wading but has plenty deep enough for swimming and canoeing. A youth camp has a floating dock out towards the middle that is often free to use for jumping in. The lake is also a great place to go fishing. No motorized boats are allowed.
Full Listing
Camp, Canoe, Dive, Swim
Added on 13 Apr 2017
0.8 mi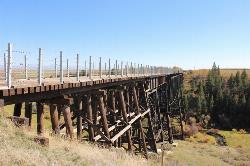 Ashton, Idaho
5.0 miles SE of Ashton, Idaho
As part of the Rails to Trails project, this old railroad bridge has been transformed into a very safe little viewing experience for the whole family. You can drive right up to the bridge where there is a great little spot to park. Conant Creek meeanders hundreds of feet below the bridge. It's about 300 yards across and whether you're taking in the vibrant colors of spring, the beautiful fall colors, or the Tetons looming in the background, the view is spectacular.
The bridge is part of the 30 mile Ashton-Tetonia Trail. There is a smaller bridge less than 2.5 miles north on the trail.
Full Listing
Hike
Added on 13 Apr 2017