37.9K

IsaacSummer 2017

by endovereric
first
prev
1
next
last
Add Location
3.8-6.4 mi
Driggs, Idaho
10.0 miles E of Driggs, Idaho
At 11,300 feet, Table Mountain is possibly the most beautiful climb this side of the Tetons and offers what may well be the very best view of the Grand Tetons. It's just far enough away to be able to see all three peaks and close enough to make out all the detail.
There are 2 main trails with different distances but either way, you've got to climb over 4000 feet.
The Face trail is much steeper but also much shorter. It cuts out all of the switchbacks and 'B' lines it for the top. It's considerably shorter and you don't have to go very far before the view begins to open up and you can see the beauty of Teton Canyon and its surrounding peaks. (about 3.5 miles one way)
Huckleberry trail is much longer but also a much more gradual incline/decline. The trail follows and crosses North Fork Teton Creek making it a great spot to get a filtered water refill.It's not known as huckleberry for nothing. You just have to catch it at the right time (Mid-Late Summer depending on weather) and get to the bushes before everybody else picks them clean. (about 6.5 miles one way)
Check conditions via webcam at tetoncam.com.
Elevation: 11,300ft
Elevation Gain: 4000ft
Length: 7-13 miles
Full Listing
Camp, Hike
Added on 3 May 2017
4.7 mi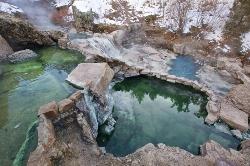 Provo, Utah
19.0 miles SE of Provo, Utah
AKA Diamond Fork Hot Springs
A beautiful drive and a 2.5 mile hike along the river will end you at an amazing set of hot springs that's well worth the trip. There's a variety of man-modified rock pools of varying temperatures up to 108°. Watch out for snakes. Depending on when you go, there can be a lot.
There are multiple sets of pools. As soon as you come into view of the falls, you'll see a couple of pools that seem to be a little raised above the creek. There are several pools close to the waterfall, including some very shallow pools and some where it's easy to move the rocks around to form your own. If you continue beyond the waterfall, you'll find a couple of more secluded pools. Make sure to go behind the waterfall but be careful of some of the more slippery rocks.
There's no good place to change once you get to the springs so you may want to plan to hike in your swimwear. If you come on a sunny day, it's easy to dry off before walking back. If you're a tenderfoot, be sure to bring some sort of footwear for the water so you can go wherever you like.
Like most locations, the hot springs more popular on the weekends so plan accordingly.
Roundtrip: 5 miles
Full Listing
Backpack, Camp, Hike, Hot Springs, Mountain Bike, Swim