Add Location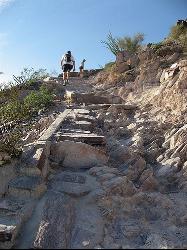 Phoenix, Arizona
9.7 miles N of Phoenix, Arizona
North Mountain National Trail is a 2.3 mile moderate, loop trail near Phoenix. It's easy to travel on if you go up the paved sections. The inclines are steep in parts, making it a real good workout, especially if you jog or run up those steep parts, or do the trail a couple of times. It can get crowded, especially the parking lot to the paved entrance. However, there arre beautiful surrounding views, that make it worth it.
There are 2 ways to hike the mountain. Starting off in the main parking lot, following a single track to the paved road OR starting in a small, secluded parking lot which is where the paved road begins (see red and green trails in map).
This trail is a relatively easy hike even though it has quite an elevation change for its length. The road/trail winds up the hill, revealing many nice lookouts over Phoenix, all the way to the towers on top of the mountain. Courtesy of aztrailheads.com
Full Listing
Hike
Added on 11 Jan 2018
Scottsdale, Arizona
11.4 miles N of Scottsdale, Arizona
Inspiration Point is a 5.7, moderate hike located on the McDowell Sonoran Preserve near Scottsdale, Arizona.
You'll begin your hike at the Gateway area, where you can find a parking lot and bathrooms. Start on the Saguaro trail which leads to the Gateway loop trail, you can go left or right, left will be shorter, right will be longer; this trail connects with the Windgate Pass Trail, Inspiration Point can be found on this trail. It's roughly a 1,000 ft. elevation gain.
The trails are rocky, but well-maintained, and clearly marked. The path winds up to a bench overlooking the city-filled valley and around to another bench that is surrounded by other peaks and valleys filled with nature. Inspiration Point is less traveled than Gateway loop, which is always crowded and is a popular tourist/family hike, thus Inspiration is a more quiet and secluded spot to enjoy the beauty of the scenery.
Full Listing
Hike, Mountain Bike